​​​​​​​This internal project was brought to light because it took an army to build the proper chat for one clinic. A lot of dev and customer support time went into creating, testing, and launching a single chat. This time spend on chats was pulling the team away from more pressing matters. Our chats for clinics became very popular making this tedious task more cumbersome for the team.
It got to a point where the chats were so complex, it would take at least 2 weeks to build one chat with almost every team a part of it's creation. ​​​​​​​
We looked at how other software either built chats or something similar to for inspiration to start us off to see what we likes and didn't like about the different examples. 
We brought individuals from different fields of the company together to complete a design sprint. The different disciplines gave unique insights and different ways around the same issue. After a rapid sketch session, bouncing ideas back and forth, and many whiteboard sketches I had enough ideas to start the wireframing processes. These wireframed included what developers insisted could and could not be done due to scope and what elements we can understand may be in a future version of the feature.
Wireframes/Sprint results
After sprint, I took what the tams came up with and pulled out the good ideas and similarities between the different sketches. I then created low fidelity wire frames to bring some of the ideas to life to play out the different possibilities, whether I thought they would work or not. In doing so, we were able to rule out some of the ideas and play around with different layouts and main ideas.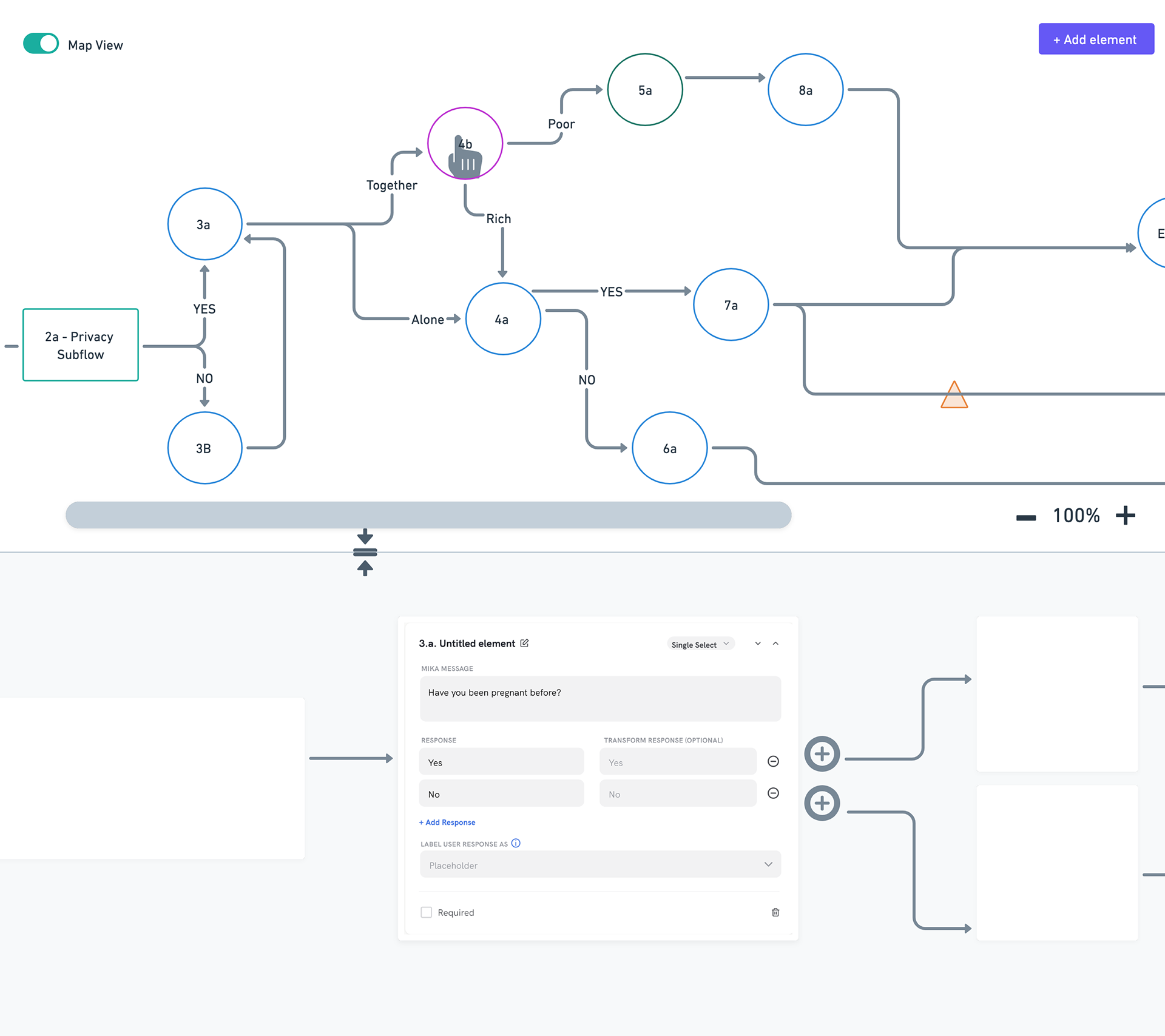 We have a section on the app that includes all the chats that the company currently has in their library. Each chat can be duplicated and edited by the Customer support member to meet the clinics' standards and requests without the need of external help. This minimized the time developer hours, as well as customer support hours to create a chat.
This addition to the feature added: 
 - A way to duplicate the chat
 - A way to easily make changes to already created chats
 - A button to send a chat to any phone to easily test the chat without the need of developer intervention
 - A way to create a chat from scratch
 - Choosing content, type of question, given response, check off whether the question is skippable.