Capstone project - Mount Royal University - 2019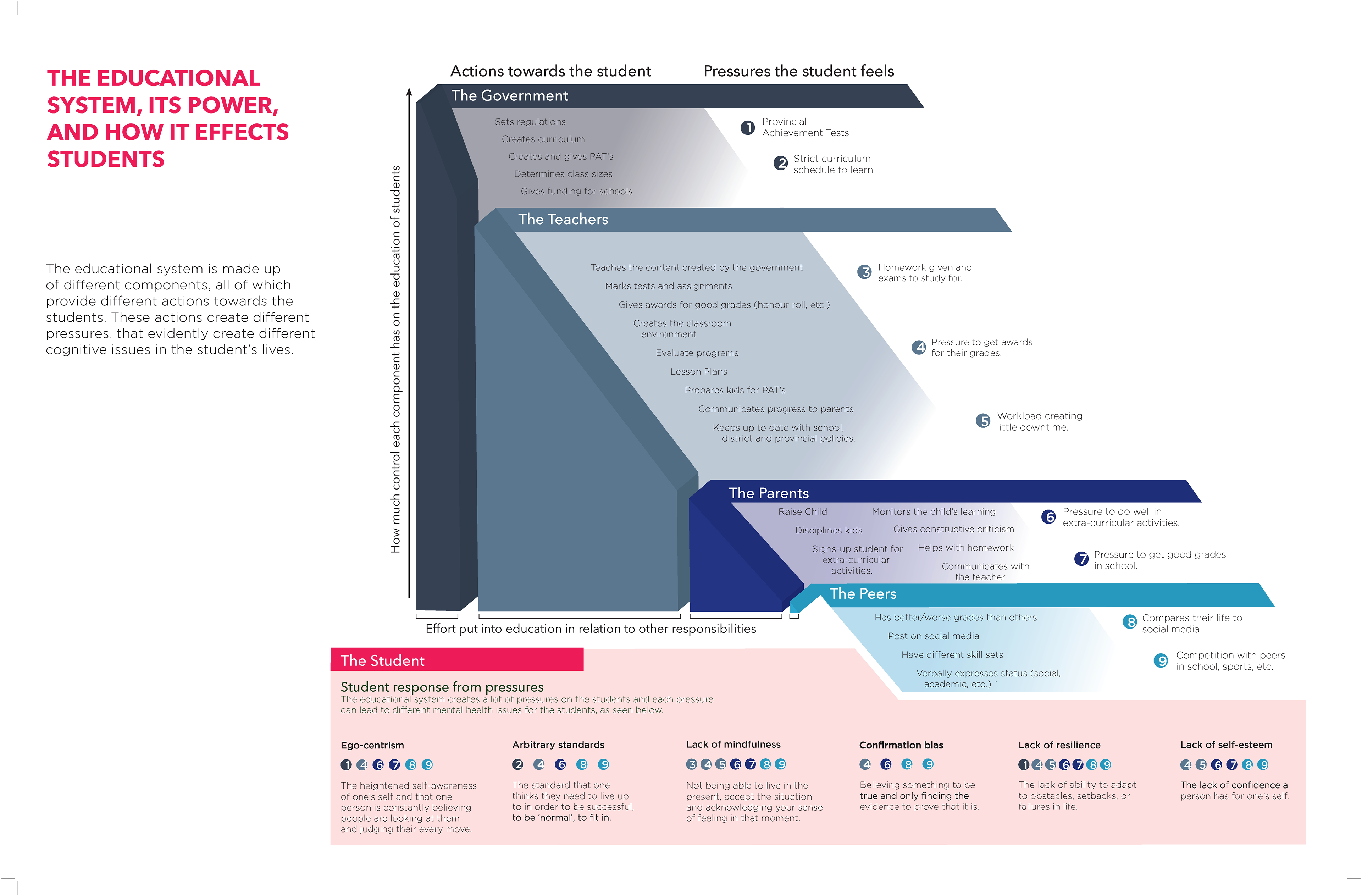 Problem 
In my initial research, I learned that through the children's curriculum, they are not learning the key coping skills to fail. I think failing is a crucial part of life, and I think we need to make people more aware of this issue, which is why I continued to dig deeper into this issue. 
However, after speaking to different individuals, I learned that the education system today is made up of different components. These components are: The government; the teachers; the parents; and the student's peers. 
After doing research, I realized that every component has different involvement in a child's education, expects different outputs from each student, and needs them to be at a standard that is almost impossible to achieve. Because of the pressures of each of the components, this is what
is bringing the anxiety to the students, and is evidently making them fear failure.

Solution

At first, I thought it was the kids being scared to fail. After researching, I realized that kids being scared to fail was just part of it. It is the lack of ability to fully succeed in all areas of the education system that is the issue. We need to change the mindset of what failure is in each of the components that make up the system. By doing this, we will be able to make succeeding in education, and in life, a possibility for all students.
To visualize this, I created a couple interactive visuals, as well as a poster displaying the data of my research. In doing this, I was able to communicate an illustration of what the system is today (with a game of kerplunk) vs. what the system could be if everyone worked together (with a game of jenga). If we have the education system work as a team, it allows for a solid foundation of student education. 

Takeaway
The biggest element I found with this project is to not let my initial ideas hold me back from the underlying reasons in the data. I initially thought that this project was about students and children's lack of ability to handle failure. And though this is true, the more I spoke to individuals, the more I realized the underlying cause to everything. With this newfound knowledge, my initial research had switched directions and I unraveled different issues I didn't even know existed in today's education. 
If I were to have continued on with my original research, I would have never opened my eyes to the corruption that is the education system in Alberta.